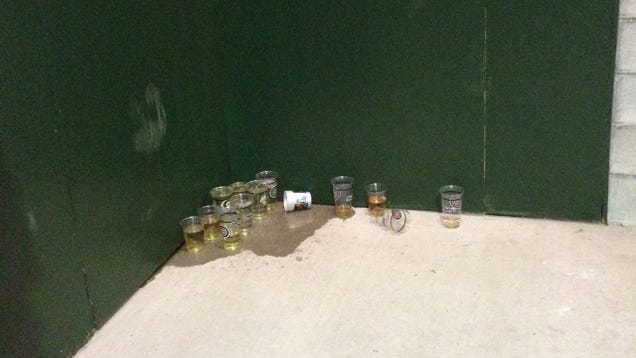 We've been chronicling the hilarity of the Cubs' attempts to renovate Wrigley Field this offseason, but things took a dark turn as the park opened for its first game Sunday night. An anonymous tipster sent us the above photo with the following explanation:
Hi, Wrigley is an unmitigated disaster tonight. Every bathroom line is roughly a block/30 mins long. Men are peeing against walls in the concourse. This is a real picture of a makeshift urinal I took right after a guy used it.
We're also being inundated with photos of ridiculously long lines for the bathroom:
From a friend at wrigley. These are the lines for the bathroom. Ouch. Looks like the renovation hasn't gone so well. pic.twitter.com/heeUH2Rdab

— Craig Mac (@CraigMac) April 6, 2015
This is out of control #WrigleyField no bathrooms @Cubs pic.twitter.com/SxzrxoBYjW

— Justin Baumann (@justinbaumann) April 6, 2015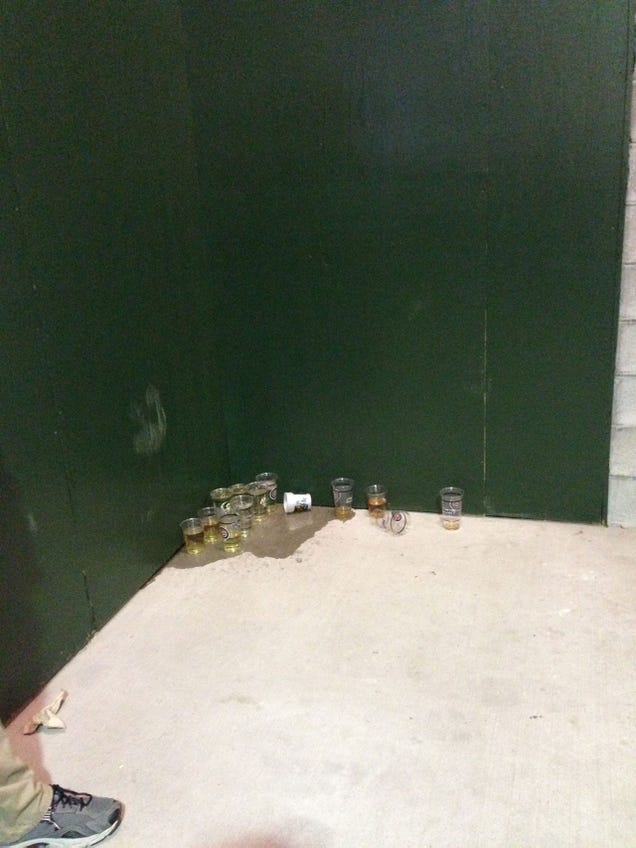 @Cubs this is how bad the bathroom situation is @ Wrigley.... pic.twitter.com/MopU6fTBV3

— Cap Anson (@cubbies2014) April 6, 2015
@Cubs this is by far the worst experience at Wrigley ever never had to wait 45 min in line to us the bathroom #rediculous

— Aaron Clark (@amcjmc2000) April 6, 2015
Apparently the desperate times have called for desperate measures. We can't attest to the authenticity of the pee-in-cup photo, or claims that fans are waiting in line for up to an hour to pee, but if you're at the game and you've seen something notable, email us at tips@deadspin.com.
Source : deadspin[dot]com